Journal
This is a collaborative series with Maxine Flasher-Düzgüneş, in which we each share photos and text from our respective explorations of the lit scenes in new cities in which we now find ourselves. I've been in Duluth, MN for the time being while I work out my recent marital separation, and Maxine is living in the Putney area of London, having earned a fellowship to earn her Masters in Dance Philosophy at the University of Roehampton. Maxine and I worked together on the board at Marin Poetry Center and were commiserating online about the challenges of living in totally new cities without the cushion of a familiar literary community, and we decided that a series of letters to each other, with photos, might be a good way to document our experiences. Each letter will be archived here on my site and Maxine's letters on her site, respectively.

III.
Dear Maxine:
As reported in in a previous letter, a few weeks ago I attended my first in-person poetry event since the beginning of Covid confinement in March 2020—Margaret Hasse's luminous reading from her new book SUMMONED at the Twin Cities Book Festival. More recently I went to RYAN VINE's Zenith Bookstore reading in Duluth.

[parking lot entrance of Zenith bookstore in Duluth]

Ryan was reading from his new book, WARD, winner of the last Robert Phillips Poetry Chapbook Prize —the prize won by my books Dark Card and Mom's Canoe in 2007 and 2008.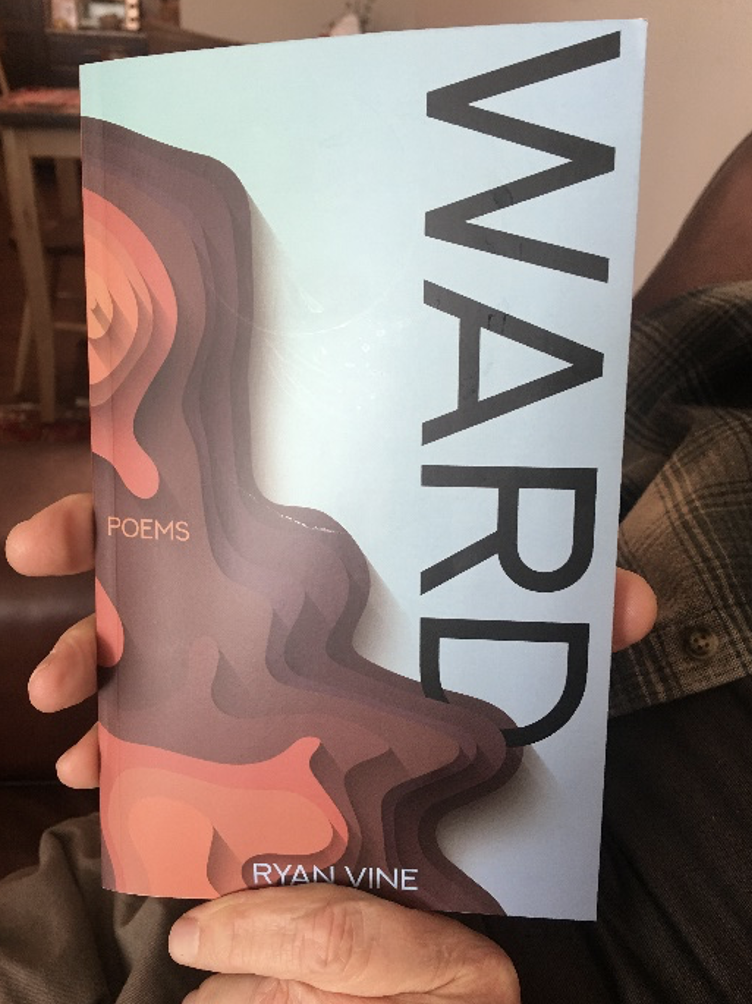 [cover of WARD (Texas Review Press 2021), winner of the Robert Phillips Poetry Chapbook Prize]

I am happy to be press mates at Texas Review Press with Ryan, a wonderfully quirky and edgy poet whose persona poems spoken by Ward resonated with me on many levels. The reading was packed, even though it took place in the parking lot where it was a brisk 37 degrees. Attendees were bundled up against the cold and were grateful for Wussow Concert Café's takeout window serving hot drinks.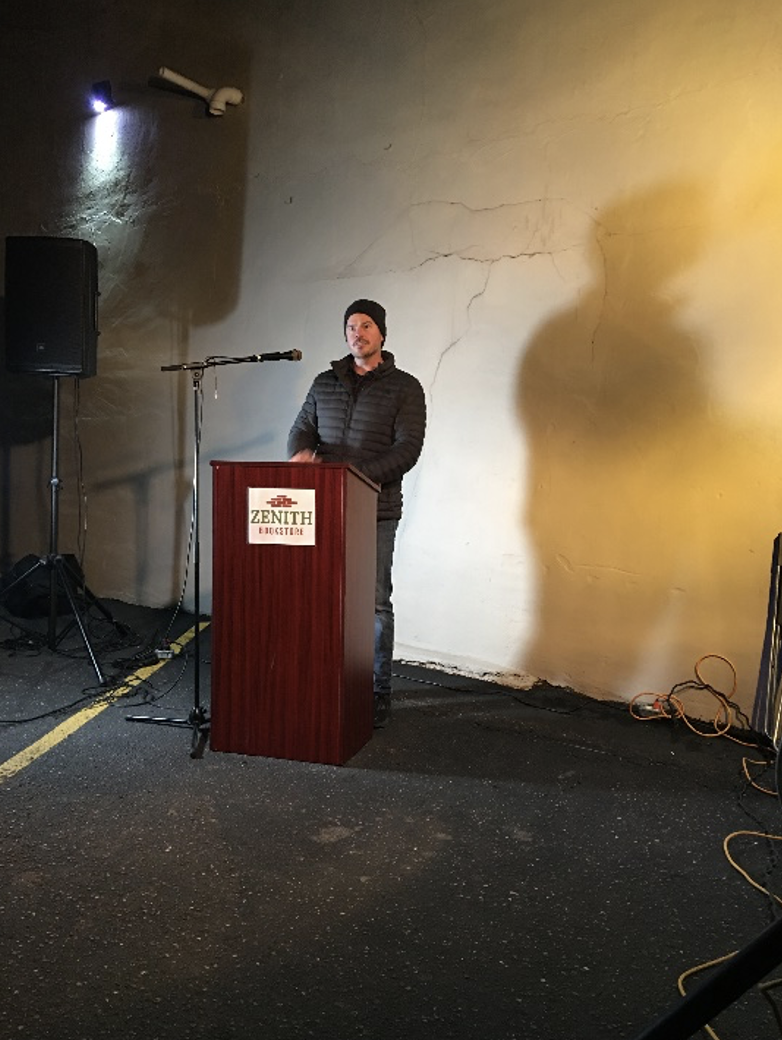 [Ryan Vine at the podium in parking lot at Zenith bookstore in Duluth Oct 2021]

Ryan is a dynamic and funny reader. Here is "Good Ward Hunting," just one of the many terrific poems read that night.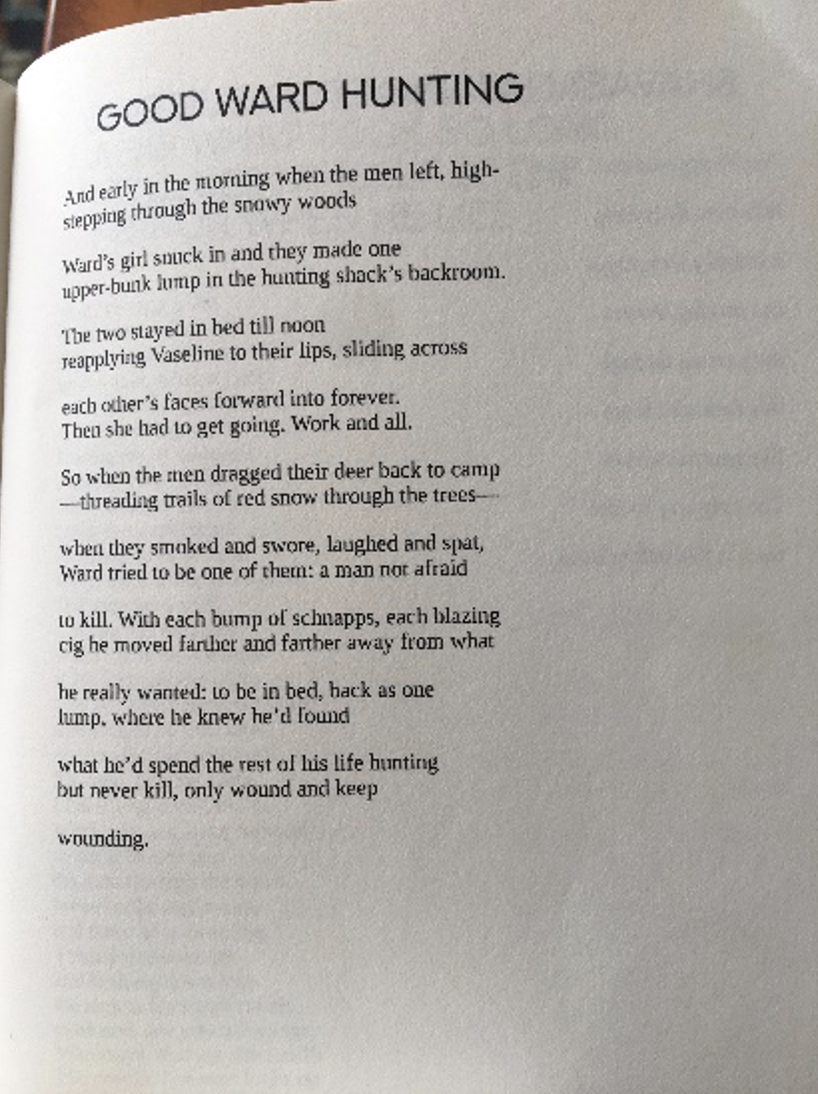 WARD is packed with humor, pathos, and terrific sound—check it out at https://www.tamupress.com/book/9781680032598/ward/.


--
Becky



II.
Dear Maxine:
Today's Duluth Lit Scene discovery is Zenith Bookstore located in the west end of downtown Duluth, next to Wussow's Concert Café, an old coffeeshop and performance venue for local artists, writers, and musicians that I will be writing about in a future post. Located at 318 N Central Ave, Duluth, MN 55807, Zenith Bookstore hosts many high-octane readings and literary events and, as you can see from the website, also hosts at least three monthly book group discussions for fiction, poetry, and children's and YA books.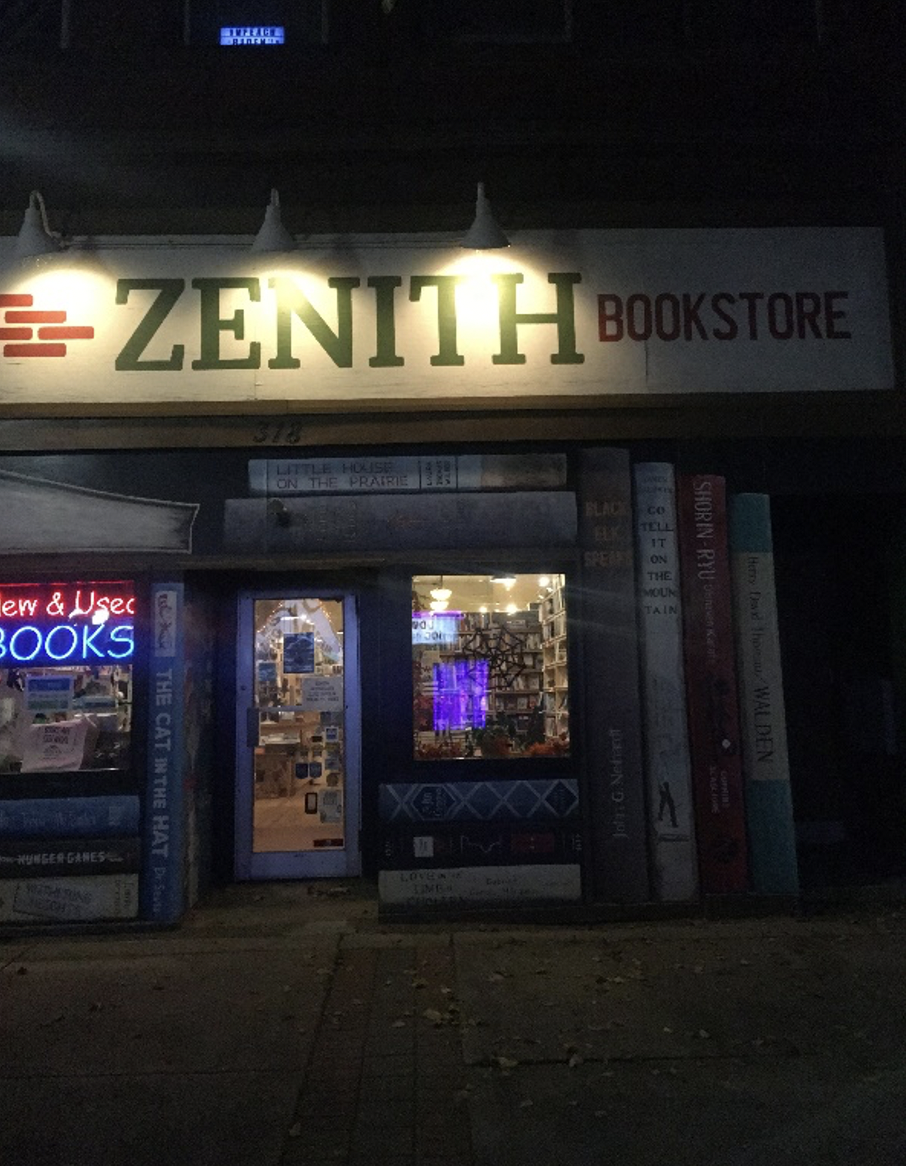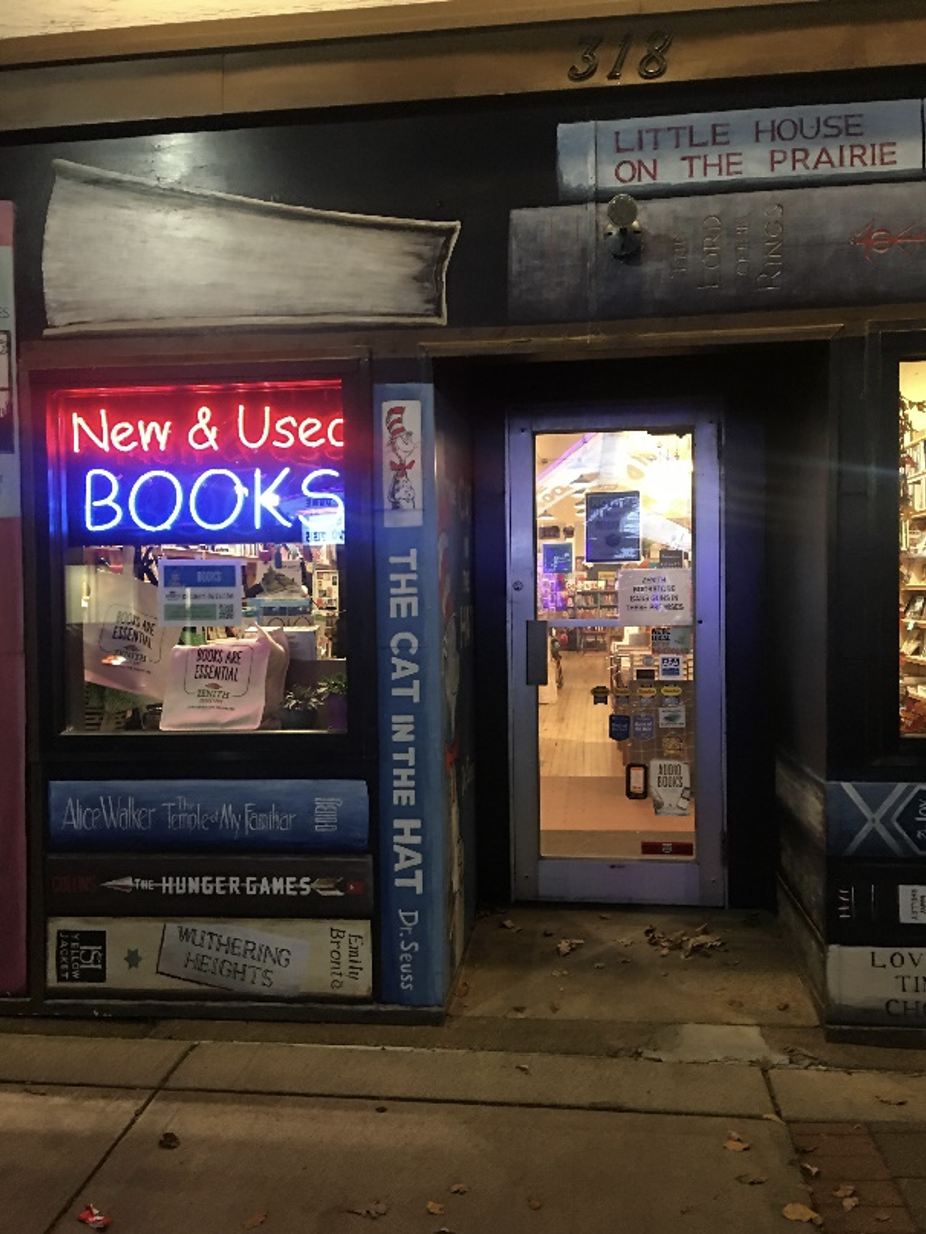 The interior space with tall shelves housing used alongside new books reminds me very much of Green Apple Books in San Francisco—great lighting, high, industrial-feeling ceilings with exposed brick walls and well-trod hardwood floors. The collections here are beautifully and thoughtfully curated by staff who, with their online photos and bios and picks evident throughout the shelves, feel integral to the bookstore experience. Here are some shots of the poetry shelves, where I encountered several old friends: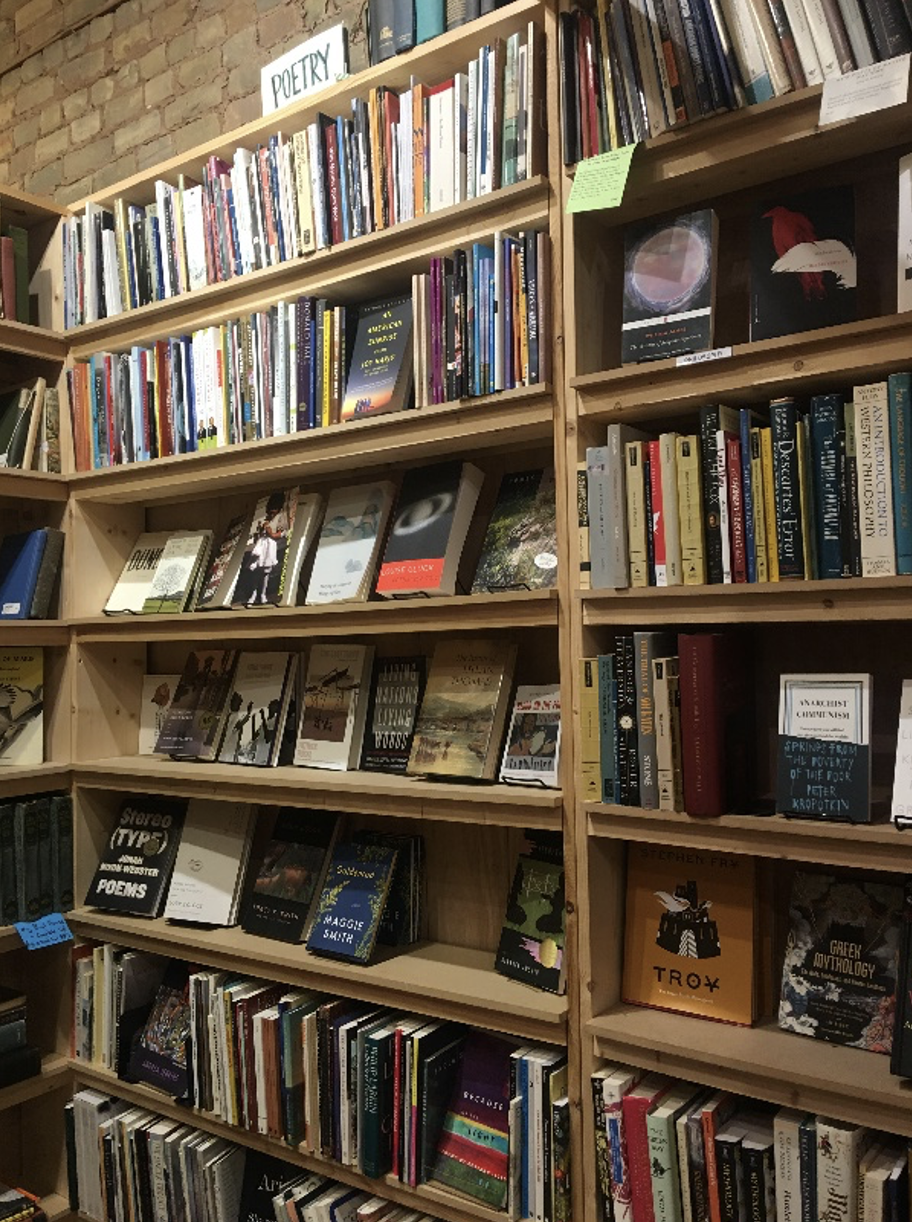 I visited Zenith to attend a reading from local poet Ryan Vine from his new book Ward (Texas Review Press 2021), which will be the subject of a separate post. I was there with my new partner, Bill Harvey, who found a great, whimsical book with gorgeous colored plates about mushrooms—apt in this region that is so richly abundant with all manner of mushroom, toadstools, and fungi, as seen on my daily hikes with Bill and his dog Monty through the city's many wooded parks: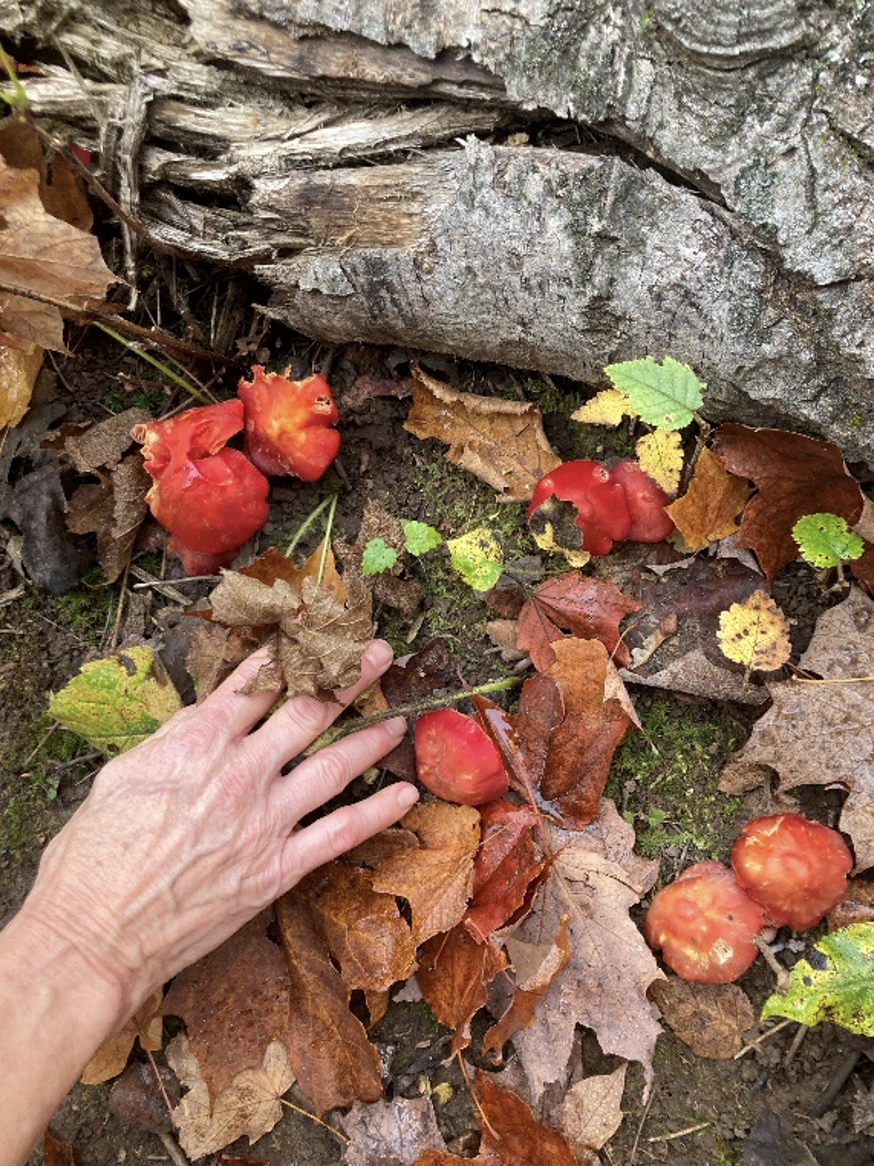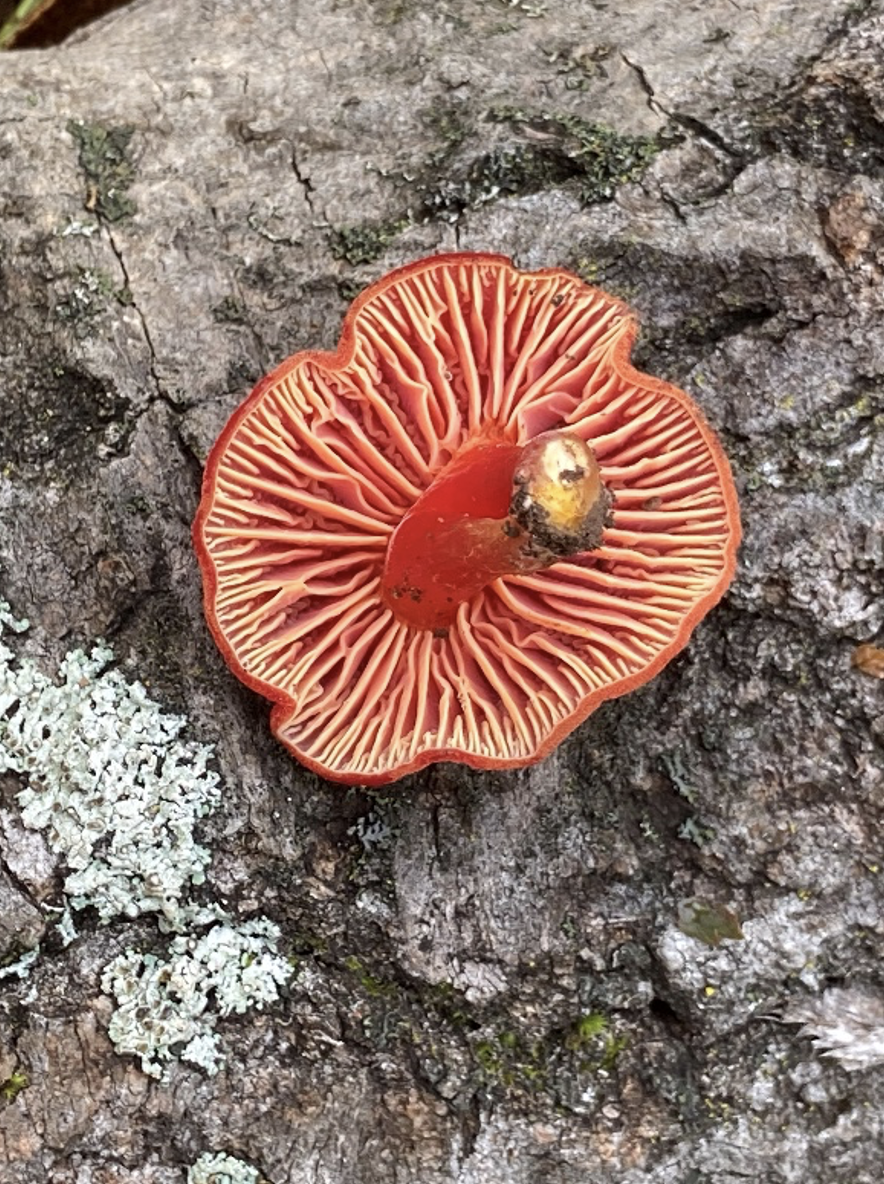 [Photos by William L. Harvey]

These are toadstools, not toads, and yet I keep thinking of Marianne Moore's oft-quoted adage that poetry presents " imaginary gardens with real toads in them" when I encounter these and other insanely-colored and spotted species on the trail. Here BTW is a shot of Monty, who is, I think, contemplating Moore's line: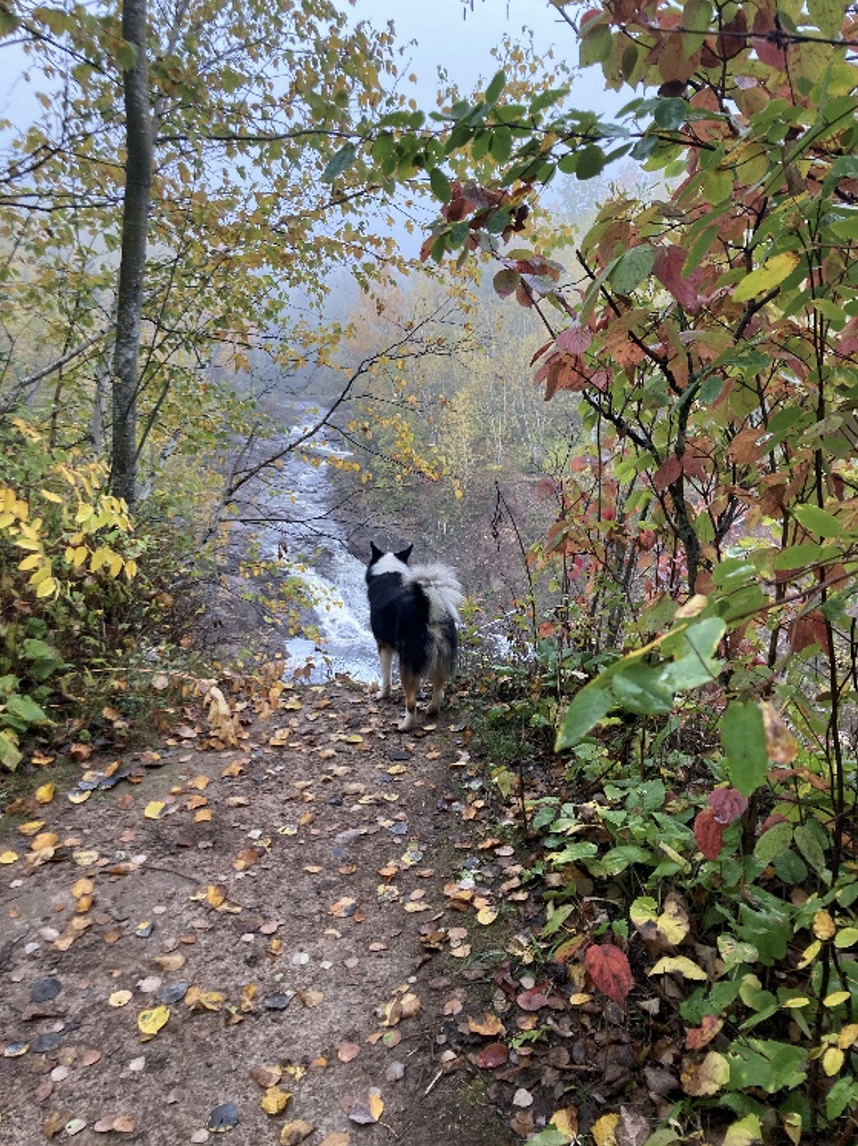 [Photo by William L. Harvey]

Zenith Bookstore is family-owned by Bob and Angel Dobrow, a literary couple with an obvious passion for books and is the kind of place I could imagine spending and hope to spend hours in, especially with that great coffeehouse next door and a wonderful old school one-movie-at-a-time movie theatre just across the street—this week it was showing the new "Dune." Tune in for more posts from this exciting literary venue in Duluth, because I am sure there are going to be many of them.


--
Becky



I.
Dear Maxine,
Today I visited Fitgers, an independent bookstore in a complex of stores in a historic building in downtown Duluth that still houses the modern version of the Fitger Brewing company. One of Duluth's oldest still-standing and functioning brownstones, this building was a sight to behold in the fall, with red-turning English ivy clambering up to its third story and inside, a bustle of thriving shops and a wonderful event venue where I attended my first in-person reading since Covid quarantine in March 2020—my letter about that event will come in a future installment.

Here is a photo of the Fitger Building & shopping complex in downtown Duluth: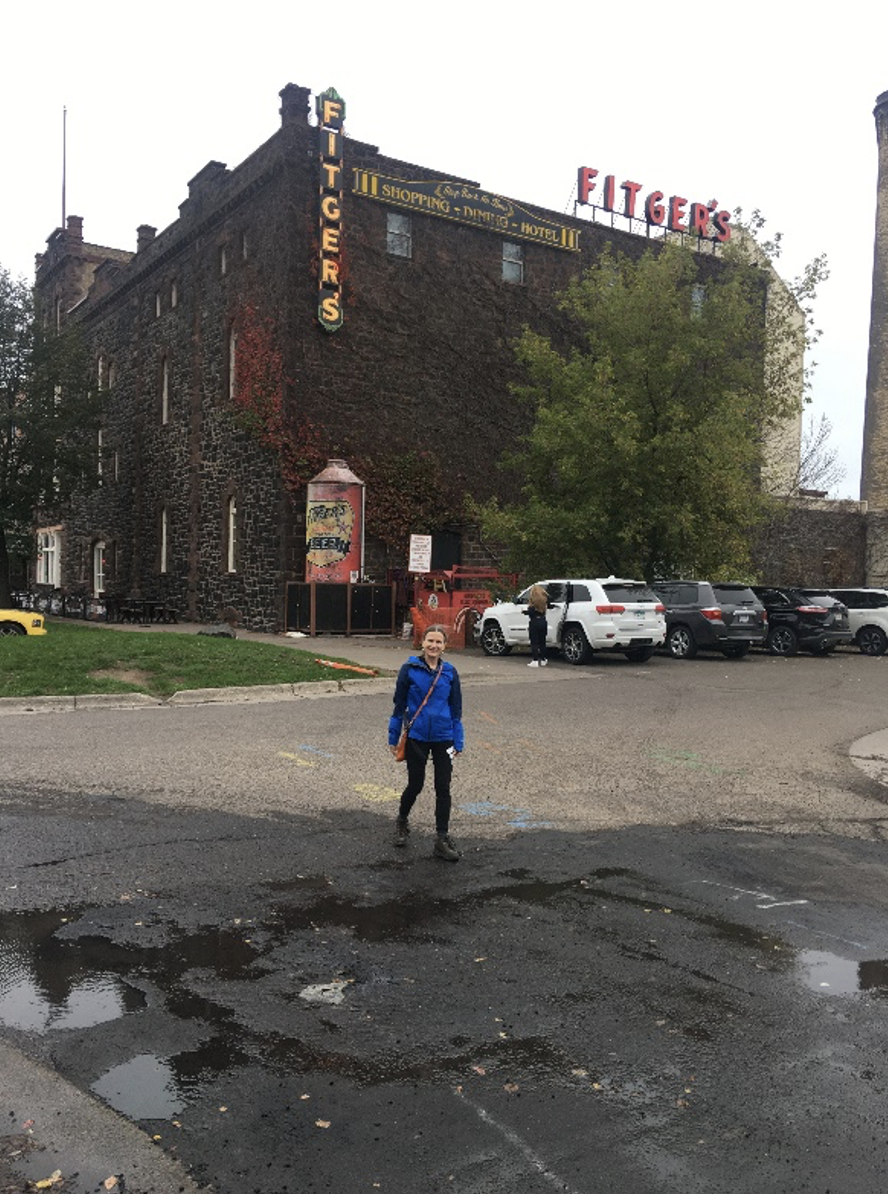 Here are some shots of The Bookstore at Fitgers and the shelves on which I found their poetry books: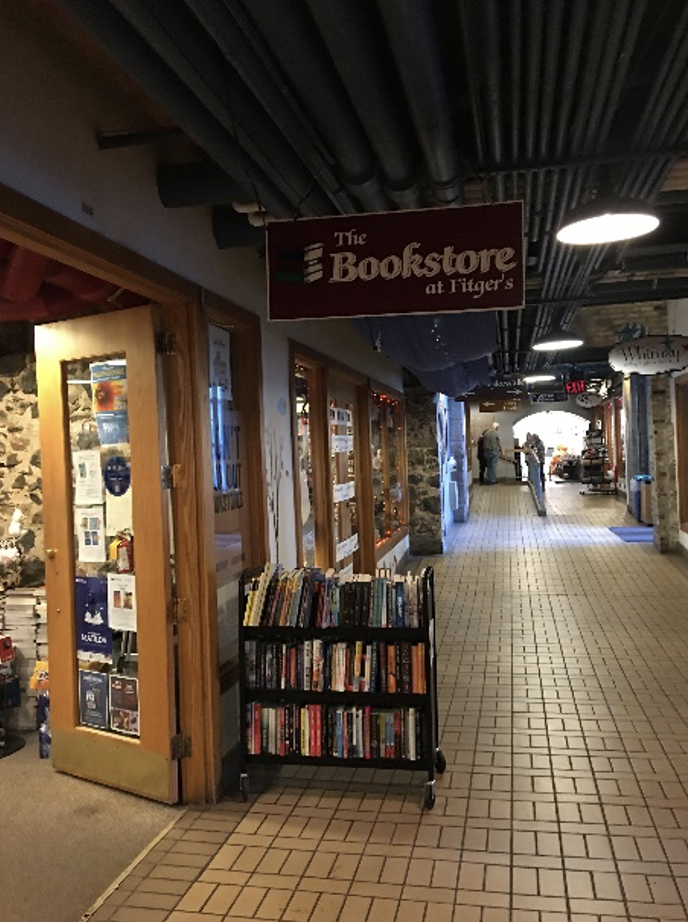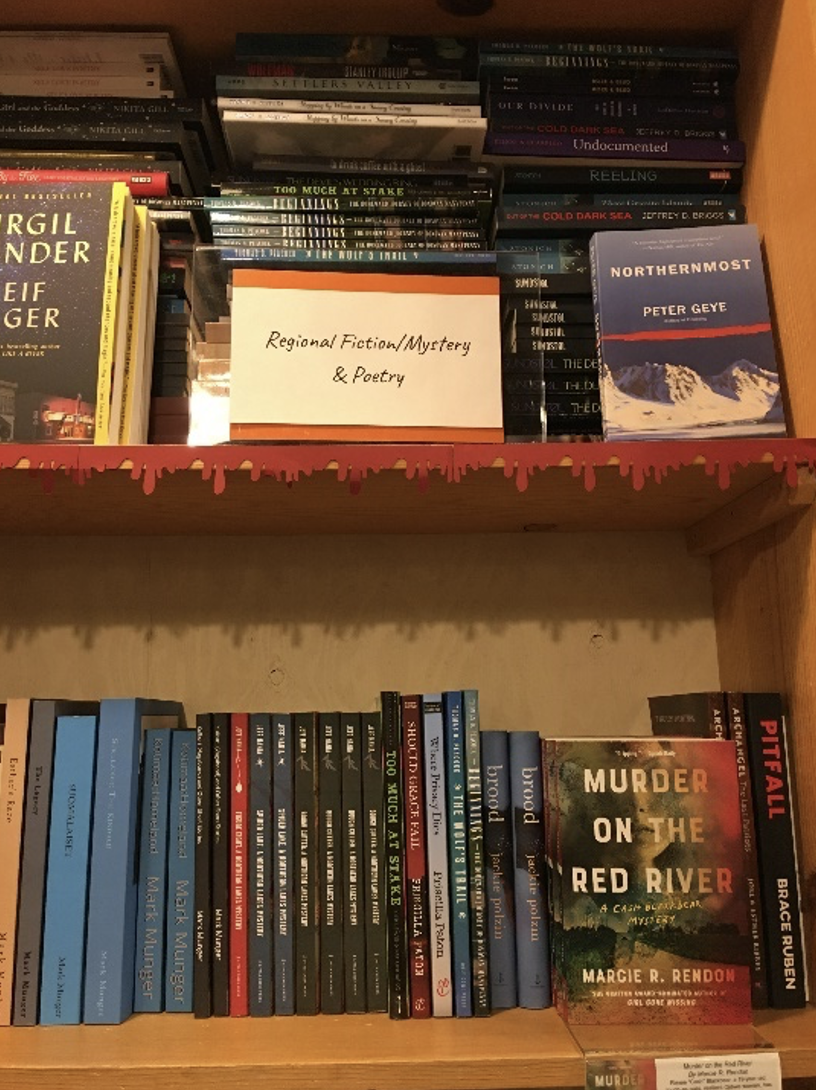 I was surprised, at first, to see Poetry classified with Mystery Fiction and then I thought, "yeah, makes sense—Poetry is equal parts personal history and fiction, with a good dose of mystery thrown in." The poetry shelves emphasized poets from the Midwest, where I found Maggie Smith's new book, Goldenrod (Atria 2021), luminous poems that include a series addressing the end of a long marriage, signaled in titles begin with such phrases as "At the End of My Marriage . . ." and "After the Divorce" and so on. Many readers are familiar with Smith's highly anthologized work like "Good Bones" and "Small Shoes" (in this book), and the poems in Goldenrod offer the same high value in terms of high stakes, vivid imagery, and brief, compressed writing that packs a palpable gut-punch.

Here's the opening poem, "This Sort of Thing Happens All the Time," which I chose for the way it resonates with the combination of dislocation and familiarity I often find myself feeling now: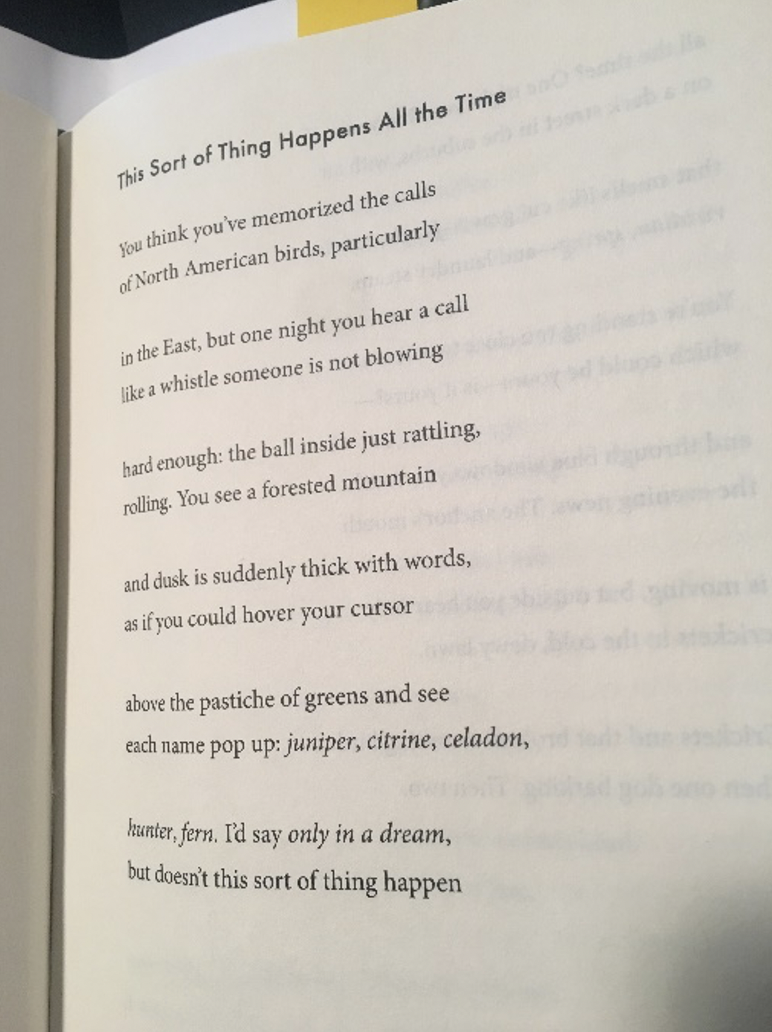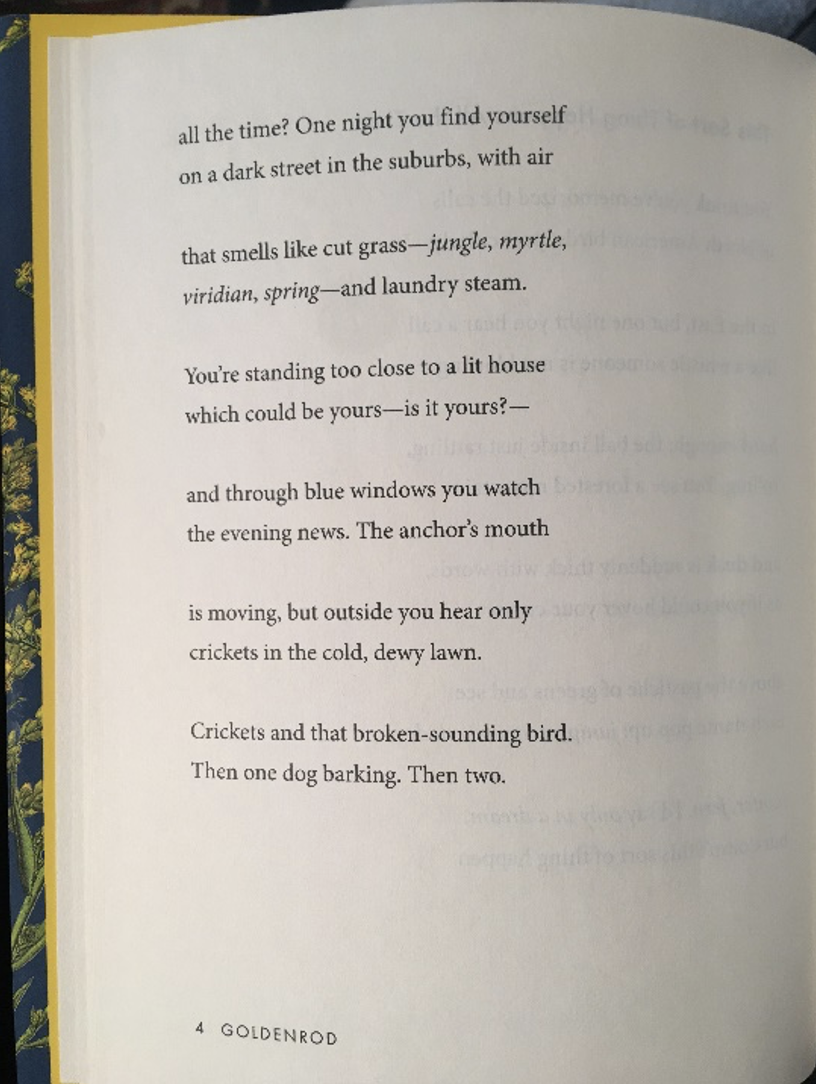 Finding and vibrating to the poems in Goldenrod led me to order Smith's other new book, Keep Moving: Notes on Loss, Creativity, and Change (Atria 2021), a hybrid work organized into three main sections: "Revision," "Resilience," and "Transformation." Keep Moving uses a variety of writing forms rendered in a variety of fonts, typefaces, and color blocks to present writing that sometimes looks like short prose, sometimes poetry, and sometimes inspirational aphorism.

Here are the front and back covers of Keep Moving (Atria 2021) by Maggie Smith: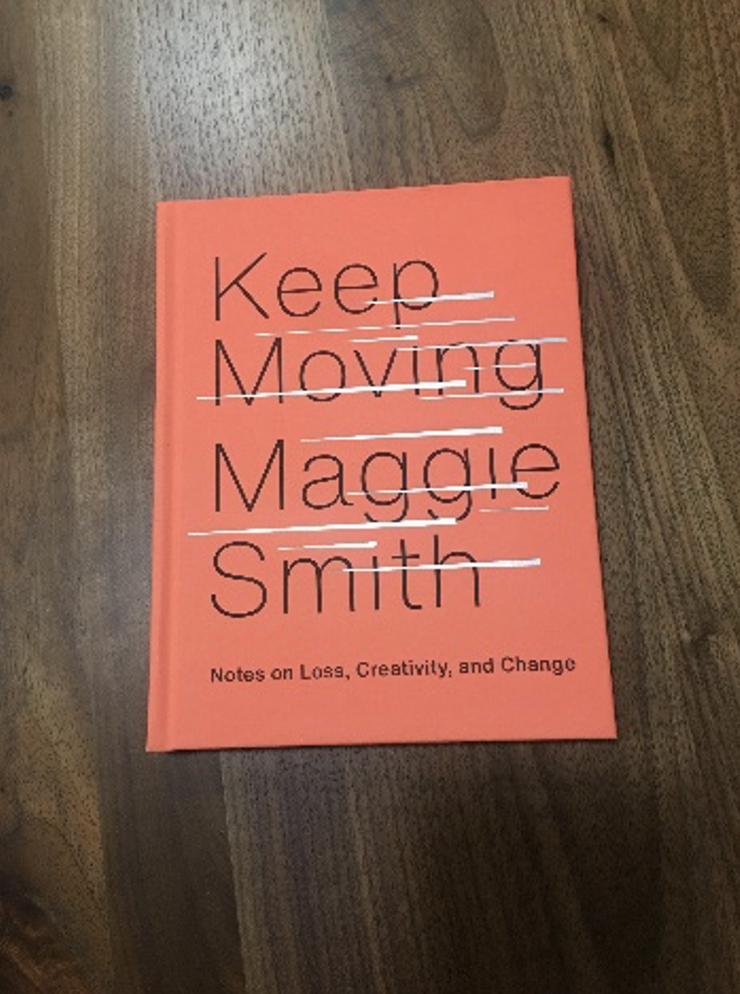 The book's vibrant cover and colors within—many pages are primary blue that contrasts dramatically with the bright orange cover—reflect its overall tone: upbeat, but always grounded in a balanced and nuanced reality. About the book's unusual form, Smith says in the first prose entry:

After almost nineteen years together, my ex-husband and I separated. When my marriage ended—and with it the life I had known—the book [of my life story] did not end. . . . If everything was going to fall apart, I told myself, at least I could create something. I was learning to live a different story, and I needed to find the words for it. . . . One morning, I wrote a goal for myself—just a couple of sentences—and posted it on social media. The next day I wrote another one. Since then, I have written a note-to-self—an affirmation, an encouragement, a self-directive—every day. [from "The Long Book," pp. 2-3.]

These "note[s]-to self," along with some longer prose pieces that read like mini-essays, make up the bulk of Keep Moving. The messages in many of these pages spoke to me: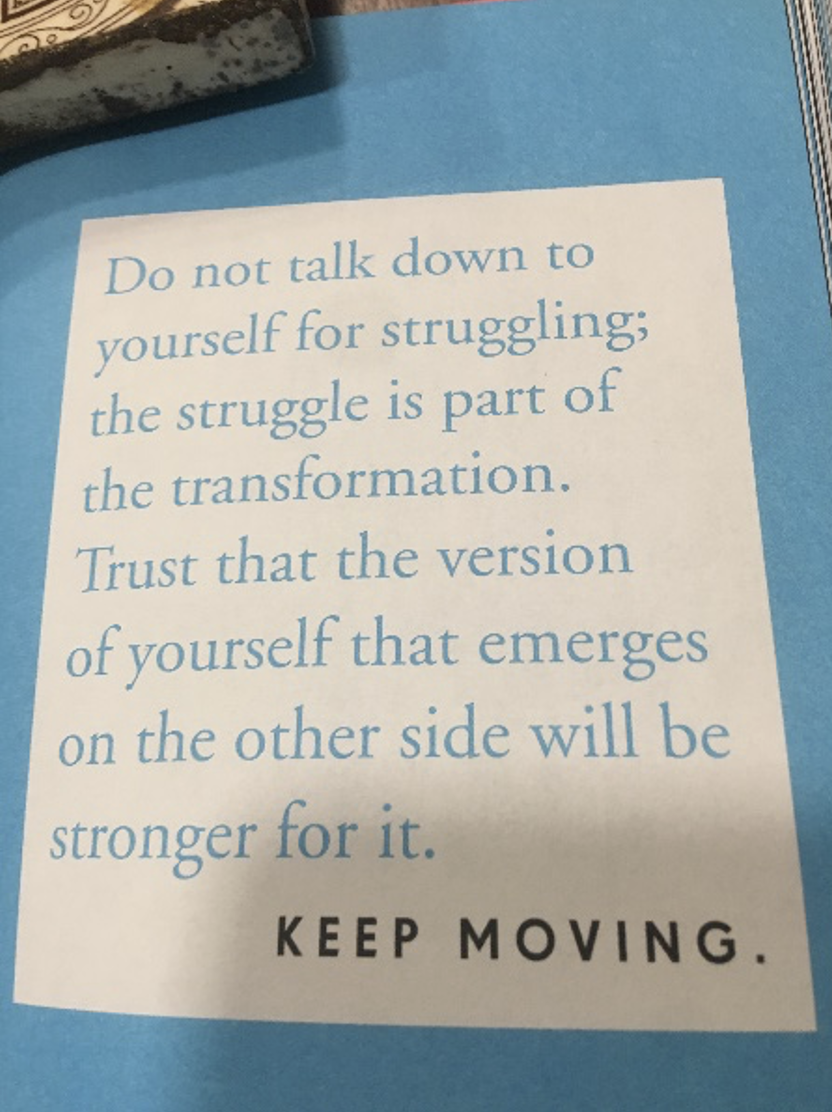 I recommend both books by Maggie Smith, Goldenrod and Keep Moving, and am grateful for the sense of safe anchorage that finding them here, in this unfamiliar city, has bestowed. I hope you are well, Maxine, and settling into your new city, life, and home. Stay tuned for future posts about what I am finding out about the lit scene in Duluth!
--
Becky