God, Seed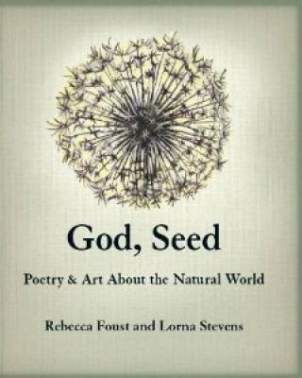 Poetry & Art About the Natural World
By Rebecca Foust
God, Seed is a book of environmental poetry with art by local artist Lorna Stevens.
"God, Seed is lyrical, intense, and concerned with issues of our planet's survival. Foust has a fierce yet loving attitude towards nature and human nature. Many of Foust's luminous, insightful poems are paired with paintings by gifted artist Lorna Stevens. This is a book to read and treasure." — Susan Terris
"God, Seed, a beautiful mix of words and images…light and deep. Good for the eye, mind and heart." — William Wiley
"Spring is springing as I experience what the author and artist have given me and I am moved to recollect, in tranquility, as the poet said, all the infinite gifts I've received and might yet find in the glorious world, both human and otherwise. Rebecca Foust and Lorna Stevens are to be congratulated and profoundly thanked. Made my day. So, thanks, and more thanks." — William Kittredge, author of Hole in the Sky, The Willow Field, and Owning It All and producer of A River Runs Through It.
paperback | 85 pages | 9781893670471 | September 1, 2010