ONLY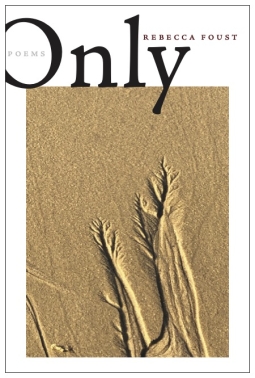 Published by Four Way Books
Urgent from the outset, Rebecca Foust's ONLY insists that the only thing worth writing about is everything. Prompted to confront what she does not know, the speaker lists, "Null. All. What's after death or before." This book scales the cliff-face of adulthood, that paradoxical ascent in which the longer we live the less we know of life, in which we find that each of us is only ourselves and yet delicately interconnected with everyone, everything, else. These candid lyrics ponder our broken political systems, family (dys)function and parenting challenges, divergent and intersecting identities, the complexities of sexuality and gender, natural refuge and climate catastrophe, and in general what it means to be human in a world that sometimes feels as if it is approaching apocalypse. At the ledge of this abyss, however, Foust reminds us of the staggering beauty of life, the legacies of survival in the echoes of care that outlast us: "I came / to the canyon rim and saw // how best to carry you: I let the stone go."


Praise for ONLY:

Insoluble, this give and take, and yet the music made from the gifts and griefs of a life is Rebecca Foust's deepest source both of clarity and of nuance, "the language of living, and its aftermath."
— David Baker, author of Whale Fall
Like an impressionist painter, she uses light to capture the immediacy of the present, the passage of time. Foust's most remarkable gift is showing us "… the world as it is: gorgeous in its mortal wound."
— Ellen Bass, author of Indigo
Every poem in this book offers what Foust describes as moments of "seeing something new, and listening, really listening." I'm convinced that we'll be listening to these poems for a long time to come.
— Peter Campion, author of El Dorado


Reviews & Features:

These poems finely weave contrasting subjects, sensually recollecting earlier life while casting a hard, penetrating look at identity, politics, family, and the climate crisis. In these beautifully crafted and ecstatic pages, Foust celebrates the strength of memory and the interconnectedness of all people.
— Publishers Weekly 7/14/22 [★]


Sound studio recordings of ONLY and Sit with Me from the audio-poetry project, Voetica
paperback | 88 pages | 9781954245297 | September 15, 2022