The Unexploded Ordnance Bin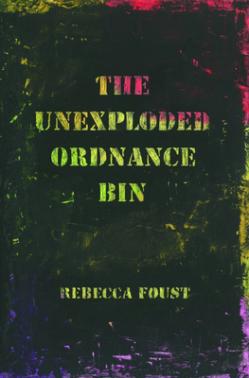 By Rebecca Foust
Published by Swan Scythe Pr
"The ticking is the bomb," Nick Flynn says, and the idea of events from our genetic, cultural, historic, and experienced past—coiled and waiting to explode in our lives—lies at the core of this new collection, winner of the 2018 Swan Scythe Press Chapbook Contest founded by Sandra McPherson. THE UNEXPLODED ORDNANCE BIN poems ignite a long, sparking fuse about contemporary culture, society, and social justice issues now dividing family, community, and country.

Recognitions:
An ENTROPY "Best Book of 2019" and SPD-recommended book.
Featured on Tracy K. Smith's The Slowdown on 2/5/20, https://www.slowdownshow.org/episode/2020/02/05/313-abeyance
2020 Poetry By the Sea Book prize Runner-Up and 2020 Julie Suk book prize longlist finalist.
Reviews and Features:
Lawrence Tjernell, http://www.thebanyanreview.org/issue2summer2020/lawrencetjernell/
Lorna Knowles Blake, for Rhino https://rhinopoetry.org/reviews/the-unexploded-ordnance-bin-by-rebecca-foust-reviewed-by-lorna-knowles-blake?fbclid=IwAR3DDGlSkT2y3UVUyeZM2u3_GWtLzuzokavHPej1itPBsKabtbGXaLjtuBk
Susan Gunter for the Harvard Review, http://www.harvardreview.org/b…/the-unexploded-ordnance-bin/
Lisa C. Taylor for Mom Egg Review, http://momeggreview.com/2020/04/14/the-unexploded-ordnance-bin-by-rebecca-foust/?fbclid=IwAR32tFaE4DH1rV2zbhZG8vehW8VY9sGBiMmnh3kXUE9EIBolspEbrZAWgHI
Mike Northern, Word Gathering and Goodreads, https://wordgathering.com/vol14/issue1/reviews/foust/
Sian Killingsworth, Poetry Café, https://thepoetrycafe.online/category/reviews/
Bob Wake, https://coffeespew.org/2020/03/05/the-unexploded-ordnance-bin/
paperback | 49 pages | 9781930454477 | November 5, 2019